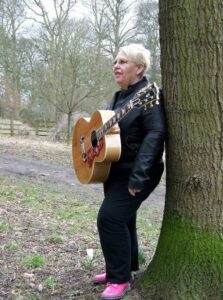 A life devoted to helping others and standing up for the rights of the oppressed, a love of nature, a yearning for the open road, an eclectic taste in music and a deep sense of empathy have all influenced Kath's creative streak.
Since getting her first guitar at the age of 16, performance in one way or another has been an unwavering passion. Now a seasoned performer and prolific writer, Kath continues to delight her audiences and followers all over the world.
Kath's life so far has taken many a twist and turn and her experiences form a major source of inspiration and creativity. Now she can add 'Best Selling Author' to her already long list of accomplishments with her latest book 'Jumping Over My Shadow', a collection of enthralling, humorous and at times poignant accounts of her travels around the world seen through her own eyes and relayed to the reader as only Kath could.