The Powerhouse of Meditation – From Stress to Vitality by Kath Reade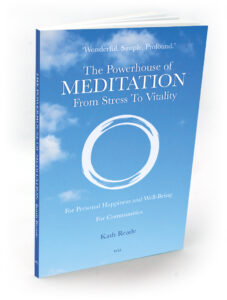 'Wonderful. Simple. Profound.'
Deeply experienced and inspirational to many in her meditations, songs and teachings, Kath has written this book to be both a meditation in itself, and an indispensable easy guide to meditation in only 100 pages.
The book will help you to access the great benefits of a daily meditation practice to your health and well being whether you are experienced or a beginner.
There is a free 14 day YouTube playlist of 5 minute meditations with Kath to go with this book to establish your daily practice.
There are also guidelines on how to run a community meditation group along with guided meditations and readings.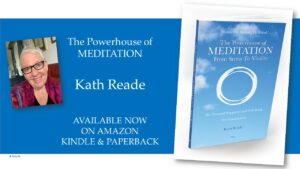 Jumping Over My Shadow – The Travel Diaries of Kath Reade
Jumping Over My Shadow is Kath's debut book.
Released on World Book Day, it is already a best seller reaching #1 in the UK, Canada and Australia and #12 in America.
The book is a collection of enthralling, humorous and at times poignant accounts of Kath's travels around the world, seen through her own eyes, and relayed to the reader in such a way that they feel they are right there with her.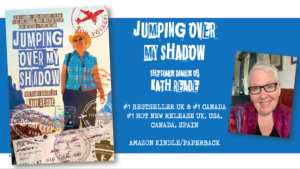 'What fun! I find your descriptions to be so delicious. I close my eyes and I can see the canals, smell the Adriatic! Thank you for taking me to a place that calls to my heart, and to a time of pure joy in my own life. Bless you.'
'I love falling into your word pictures!'
Sit back, relax and enjoy a taster read out by Kath herself.
The Places That Call My Heart – Travelling The British Isles by Kath Reade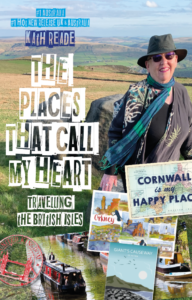 Bestselling author, Kath Reade takes you on tour of The British Isles from the Orkneys, Northern Ireland, the wild Isle of Arran in Scotland, to North Wales, on a meditation retreat in Devon and even the Shropshire Canal.
The descriptions are detailed, the anecdotes always charming and at times hilarious – you will be transported from take-off!
Kath Reade has had an amazing professional executive career, has been a civic leader and Chair of various UK NHS Trusts managing billion pound budgets … and in her spare time she's a folk singer and poet… and now a popular travel writer.
Her first book Jumping Over My Shadow was a #1 International bestselling travel writing and bed and breakfast guide.
The Places That Call My Heart – Travelling the British Isles includes some of the stories from her global travel compendium as well as some new adventures to get your teeth into so sit back, relax and enjoy!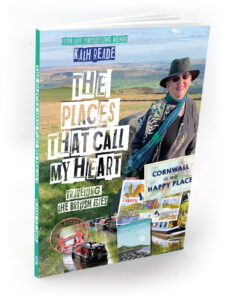 'A beautifully entertaining read which transports you to wherever Kath might be going at the time, and she only goes to the best places.
Often funny, sometimes poignant and always richly descriptive, this book includes some of the stories from Kath's best-selling global travel book 'Jumping Over My Shadow' but also showcases a few of her latest adventures, including the joys and challenges of getting back out on the road after the Covid19 pandemic and an altercation with a seemingly unfathomable induction hob in the wilds of Scotland'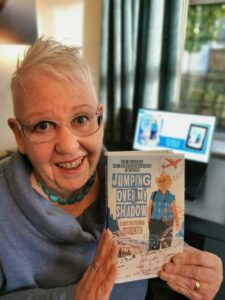 Kath Reade has had an amazing career at the frontline of social care and public sector leadership, always championing the underdog, and underpinned by her love of justice, peace and equality.
Born and brought up in London, Kath worked in poor and deprived communities in the north of England for over 30 years due to her deep empathy with those in struggle for a better life. She was a carer for her chronically ill mother from a young age.
After being a social worker in Manchester, Kath lectured in higher education on child development and protection, and social policy.
Kath became the first woman leader of Burnley Council in 1994 and pioneered public-private partnerships to create jobs. She was able to prioritise a purpose built women's refuge. She headed a multi-million pound regeneration programme and spearheaded an award-winning crime reduction initiative.
While a board member on the North West Regional Development Agency she spoke internationally on anti-poverty strategies and public health improvements.
She was chair of Cumbria and Lancashire NHS responsible for a £2 billion annual budget and the performance of 23 NHS hospitals and Primary Care Trusts during the Blair years.
Latterly, Kath was Chair of East Lancashire NHS Primary Care Trust, and was awarded Outstanding NHS Chair by the NHS Leadership Academy for her work to tackle health inequalities and for her expertise in governance of public bodies.
Throughout her life, Kath has always been a singer-songwriter, poet and writer. Now in her 70s, Kath is a trained gong-master and sound healer, and meditation teacher.
Writing songs, poems and prose has been Kath's constant refuge and life-blood. She is a published poet and has made many well reviewed albums of her songs.
Kath lives near Burnley, Lancashire, in England with her husband Paul who is a retired IT professional and a folk singer. They have been married since 1974, having met in a folk club. They are keen countryside walkers. They have a son, Shaun, who has an IT company, a counselling practice, and is a trained pianist.
Kath has a following on Facebook – give her a follow if you'd like to keep up with what she's doing. www.facebook.com/KathReadeMusic