Kath Reade: Music Is Life & Life Is Music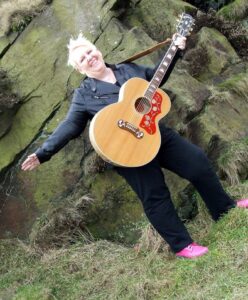 Kath Reade is a prolific singer-songwriter with a musical career spanning the best part of 60 years. During her formative years, Kath was offered a recording contract with Polydor but had to turn it down when her father insisted she got an education instead. A university degree in Social Sciences followed, but Kath has continued to write and play music throughout her life so far.
Kath has written hundreds of songs and true to form, many of them have been inspired by her life experiences and the people she has met along the way. She has a large and loyal following on the folk scene and beyond with many of her songs becoming well-known and even being learnt and played by other musicians.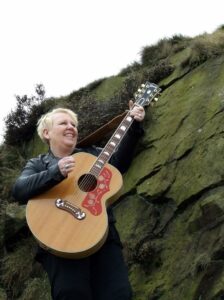 Kath Reade Live
Kath regularly posts her performances on her YouTube channel. Here's a selection to whet your appetite. Enjoy!
Sorry, there was a YouTube error.
Kath's Albums & Catalogue
Inheritance (2022)
'Inheritance' is Kath's latest album and is a homage to beautiful traditional folk songs of the British Isles that move her, some of which date back to the 1400s. The history of these songs is deeply affecting and fascinating. Kath has included two originals written in the traditional style.
The songs were recorded in Whitby, a mecca for folk music lovers, by superb recording engineer and musician Rob van Sante.
Kath sings mainly acapella but there are great harmonies from Lynda Hardcastle and Alan Rose, whistle by Gordon Tyrall, haunting Ullin pipes by Becky Taylor, and keyboards from Chris Parkinson.'
© All Rights Reserved
Devotion To Song (2013)
"… Celebratory … life-affirming … beautiful … imaginative … brilliantly conceived…. Truly outstanding supporting musicians Rebekah Findlay, Shaun Reade, and David Crickmore … Kath's status as a classy folk troubadour is assured." David Kidman.
We are treated to another foray into the musical realm by Kath with all original material and a voice that could melt butter.
© All Rights Reserved
Passionate Nature (2010)
A beautifully produced album of all original material and multiple instruments, recorded and engineered by BBC folk rock producer David Crickmore. Featured musicians include Damien Barber, Sarah Smout (Magpies) & Shaun Reade. R2 Magazine described Passionate Nature as "… an album that should see Kath Reade achieve wider recognition for her talents."
© All Rights Reserved